Multani Glow Renewal Organic Handmade Soap
Regular price

Rs. 649.00

Sale price

Rs. 399.00
---
Country Of Origin: India
Introducing our Multani Glow Renewal Organic Handmade Soap, a true marvel for your skin! Crafted with utmost care and devotion, this soap brings together the power of natural ingredients to give you a radiant glow.
Our soap is meticulously handcrafted using 100% natural elements, devoid of any artificial colors or fragrances. The key ingredient, multani mitti, renowned for its extraordinary properties, works wonders on your skin.
Experience the benefits of multani mitti as it gently exfoliates, removes impurities, and rejuvenates your skin. This natural wonder also aids in skin whitening, leaving you with a brighter, more even complexion.
Our Multani Glow Renewal Organic Handmade Soap is perfect for your face and body, ensuring a luxurious and wholesome bathing experience. Embrace the goodness of nature with our meticulously crafted, natural, and organic soap. Elevate your skincare routine and indulge in the ultimate pampering with this exquisite blend of natural ingredients.
How To Use

Can be used on both face and body.
Wet skin with water, gently apply the soap to create a lather and rinse clean. Store in a cool, dry place to avoid quick melting of the soap.
Benefits
Ingredients

Extra Virgin Olive Oil, Castor Oil, Extra Virgin Coconut Oil, Palm Oil, Rice Bran Oil, Shea Butter, Kokum Butter, Lye, Distilled Water, Multani Mitti, Orange E.O, Cedarwood E.O.
Skin Type
Storage & Shell Life

Storage: Keep it in cool and dry place away from sunlight. Dry out soaps between uses to maximise product utilisation
Shelf life: Try to use within 6 months for fragrance purposes after which the colours & fragrances fade.
Our soaps are cold-processed soaps which means no external heat is applied.
Disclaimer: Our soaps are made from oils & butters hence they won't be rock hard as most soaps available in the market which are chemically processed.
Please note: Each batch of soap we make is handmade from start to finish, the design and coloring may vary by batch and/or bars and may therefore differ somewhat from images shown.
Hurry, only 11 items left in stock!
Share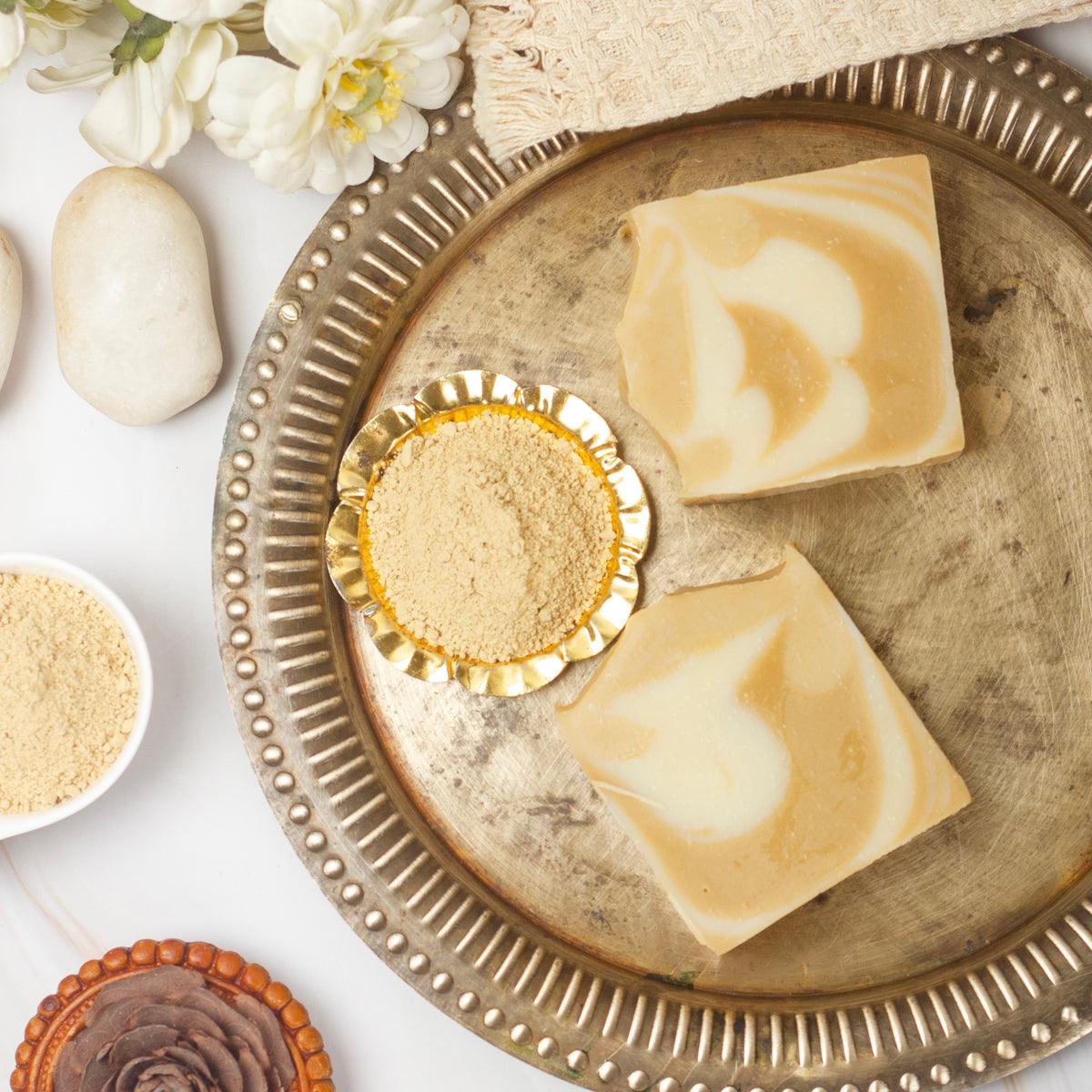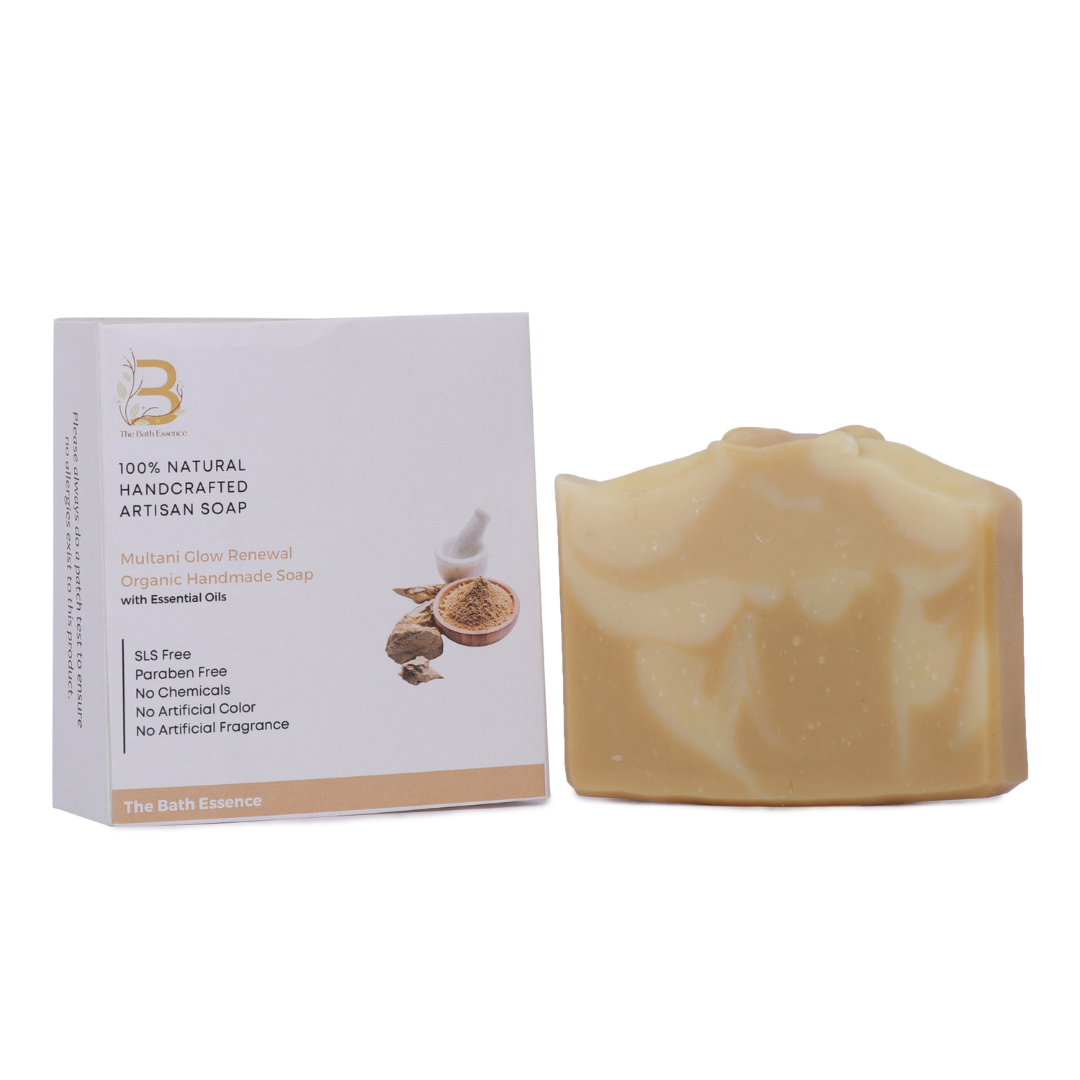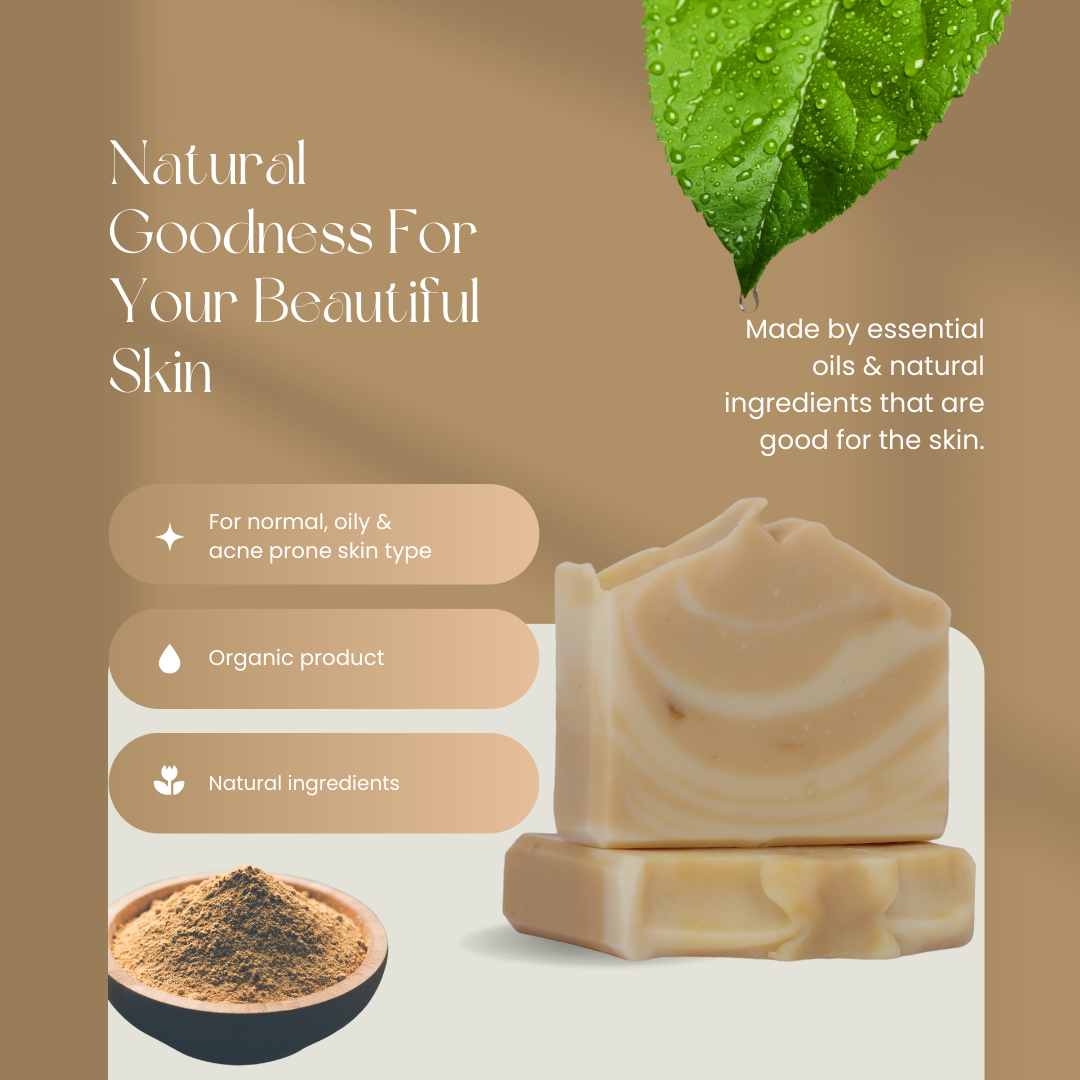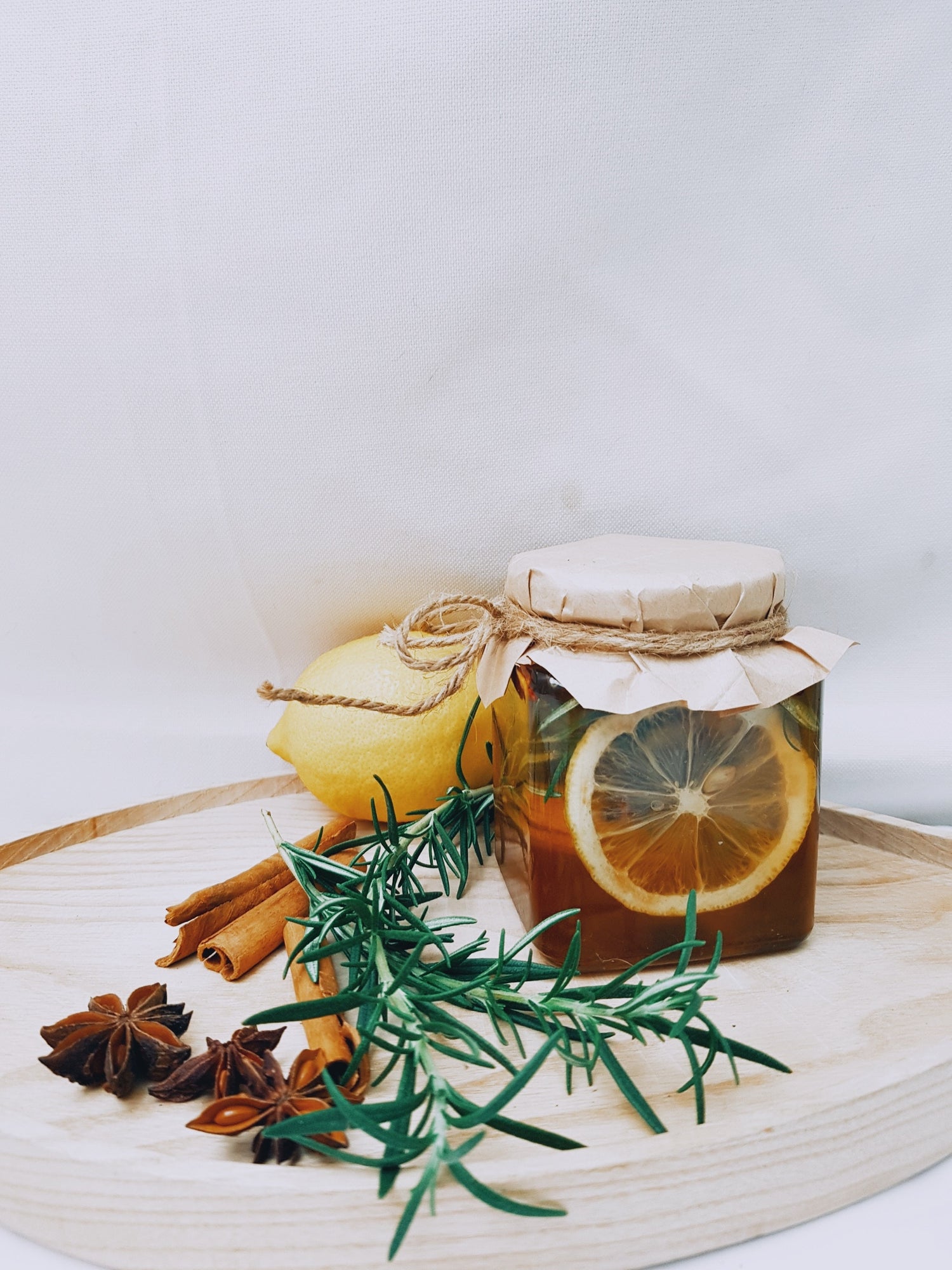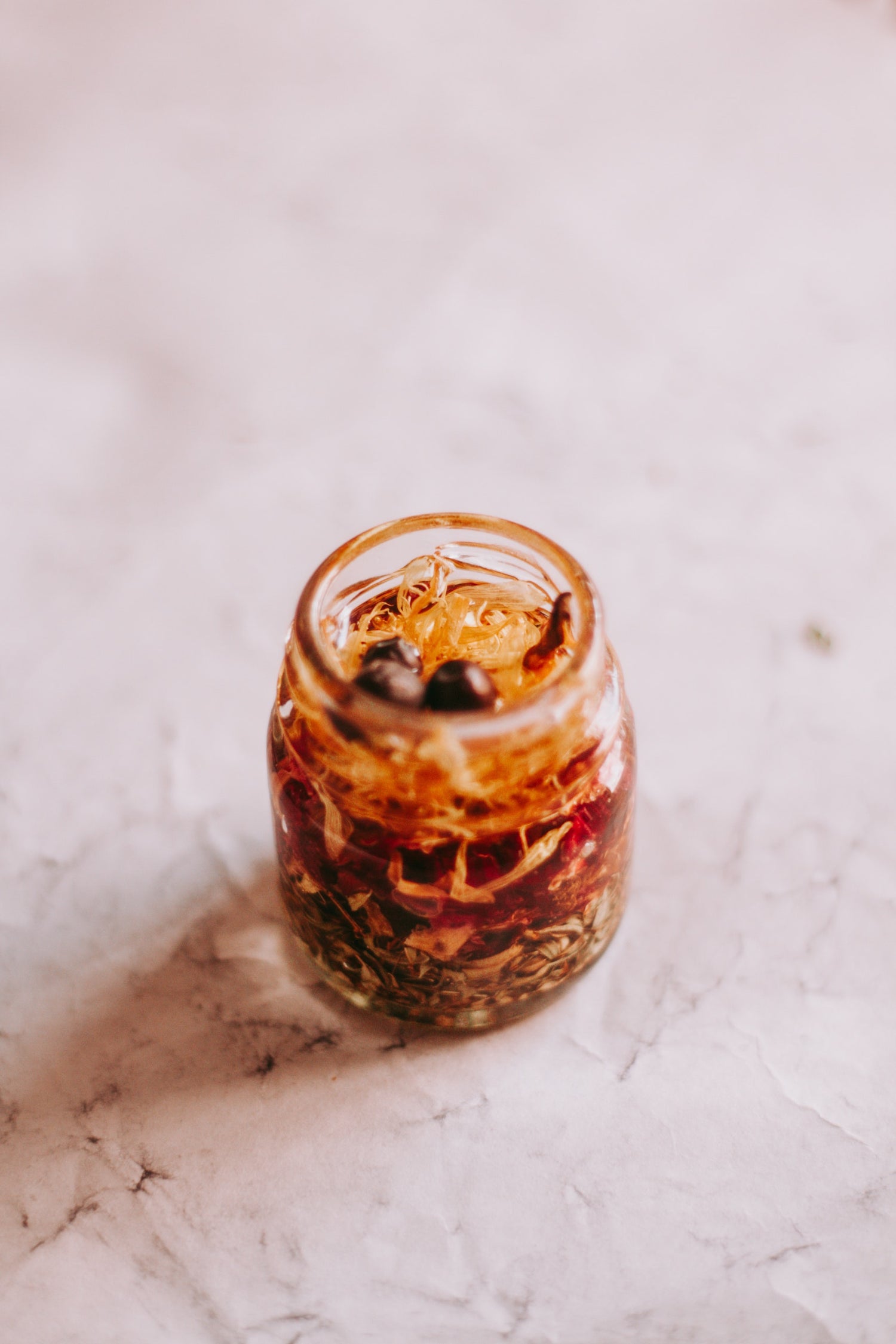 What make us different?
Our bathing essential brand truly sets itself apart from others by embodying a commitment to creating products that are 100% natural. We take pride in our strict avoidance of artificial colors, opting instead to infuse our creations with the captivating hues derived solely from herbs and clays. Furthermore, our dedication to authenticity extends to the fragrances we use, which are carefully crafted using essential oils. With our unwavering ethos, we provide a unique bathing experience that seamlessly combines nature's goodness with luxurious self-care.
Love the Texture
I used the Multani Mitti soap, the texture was very creamy and smooth, there is no added fragrance thus, the soap provides quite an organic experience. Would def recommend it :)
FAQs
What is natural handmade soap?

Natural handmade soap is a type of soap that is made from natural ingredients such as plant-based oils, essential oils, herbs, and clays. It does not contain synthetic additives or harsh chemicals and is often made in small batches by hand.
How should I store this soap?

Natural handmade soap should be stored in a cool, dry place away from direct sunlight and moisture. It is best to allow the soap to dry out between uses by using a soap dish that allows for drainage.
What type of fragrances are used in this soap?

We do not use any synthetic fragrances or perfumes in our soaps. We only use pure essential oils which are dereved from plants and herbs whcih are also skin friendly.
What is essential oils?

Essential oils are natural that are extracted from plants. They are used in aromatherapy and various other forms of natural healing and have many beneficial effects on the body. Essential oils are often used in homemade soaps and other beauty products as they provide a pleasant scent and can help to nourish and protect the skin.